¡Practiquemos! Frequently Asked Questions
What is Practiquemos?
Practiquemos is an online verb conjugation exercise for anyone learning Spanish. Subject / verb pairs are given at random for users to conjugate. Unlike worksheets, incorrect answers receive immediate feedback and oportunity for correction. There are over 60 tenses (and moods) and two levels to choose from. Users may also choose between Spain (vosotros) conjugations or Latin American (ustedes) conjugations.
Do I need to sign-up?
Students and teachers who don't care about times and scores may use Practiquemos for free as long and often as they want.
How do I get students' results emailed to me?
If you are a Spanish teacher, go to the subscription page to submit your information. Your students will then be able to select your name from the menu and have their scored results emailed to you. Your students can select a variety of questions and time limits. Scores are calculated as a percentage based on the number of attempts it takes to get a certain amount correct. A one-year subscription is $19.99.
What do the results look like?
This: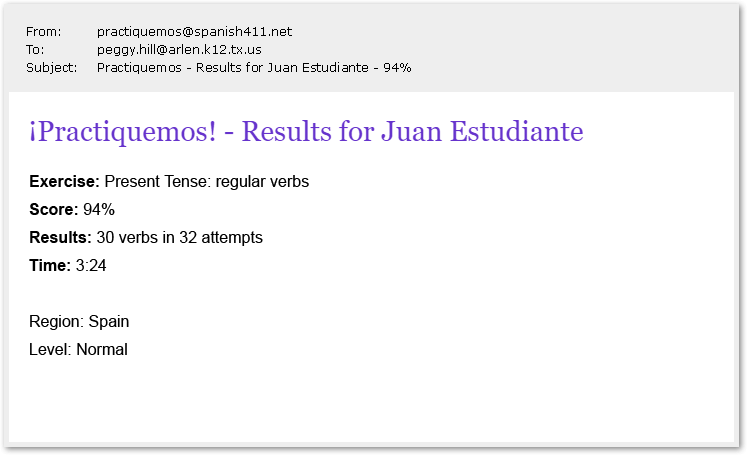 Can results get sent directly into my gradebook?
That would be awesome, but no.
Can I customize the verbs used?
No, but if you have a particular verb you'd like to see added to a particular list, email webmaster@spanish411.net and plead your case. (Keep in mind verbs are given randomly so your students may not see it.)
How do I set up student accounts?
No need. Just be sure your students type in some name by which you can identify them when they start.
Do I need to worry about privacy?
Since there are no student accounts, there's no personal student information to worry about. While teachers' email addresses aren't displayed, a knowledgeable student could find one by searching through the source code.
How can I be sure my students aren't cheating?
The timer helps ensure that students aren't looking up every conjugation, but you can't be 100% sure unless you're watching them. It's also possible one student could submit results for another (but that's also true even if they had usernames and passwords).
What problems could I expect?
Practiquemos requires a reliable Internet connection, a decent web browser, and javascript. Problems with any of those three things will cause undesired results.
Some browsers mishandle international characters (á,ñ, etc.) making it impossible for students to score correct answers. Google Chrome is recommended for best results.
Students have been known to forget to hit the submit button at the end of their exercise and complain bitterly about "lost" results.
Students have been known to send results to the wrong teacher (which means teachers have been known to receive results from the wrong students).
On rare occasions students with older browsers and custom javascript settings have had results scored higher than 100%.
Results may end up in your spam filter. Be sure you can receive email from: practiquemos@spanish411.net