Hispanic Names
If it seems that Hispanic people have longer names than their English speaking counterparts, it's because they usually do. One extreme example is Pablo Picasso. His full name is "Pablo Diego José Francisco de Paula Juan Nepomuceno María de los Remedios Cipriano de la Santísima Trinidad Ruiz y Picasso." Hispanic names tell a story. You can learn a lot about a Spanish-speaker from their full name.
Spanish Last Names (Surnames)
Hispanics usually have two last names or "apellidos." The first surname is their father's surname (known as the "apellido paterno"), and the second surname is their mother's maiden name (the "apellido materno"). Some examples:
Juan García Reyes
or
Juan García y Reyes
Carla Rodriguez Calderón
or
Carla Rodriguez y Calderón
Juan has a father whose surname is "García" and a mother whose maiden name is "Reyes." Carla has a father whose surname name is "Rodriguez" and a mother whose maiden name is "Calderón." In some places a "y" is used to separate the last names (e.g. "Carla Rodriguez y Calderón"). In this way, the mother's maiden name is preserved a generation longer than in the traditional English custom. Some English speakers are also adopting this concept by using the mother's maiden name as a middle name for a child.
Informally Juan García Reyes would simply be addressed as "Juan García" or "Señor García." Carla Rodriguez Calderón would simply be referred to as "Carla Rodriguez" or "Señorita Rodriguez."
Examples of the full names of famous Latinos: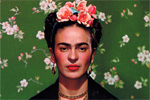 Magdalena Carmen Frida Kahlo y Calderón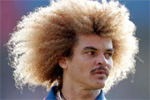 Carlos Alberto
Valderrama Palacio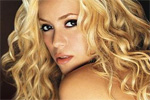 Shakira Isabel
Mebarak Ripoll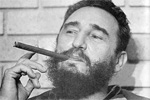 Fidel Alejandro
Castro Ruz
Many Hispanic last names are historical occupations (e.g. "Molinero" = miller, "Herrero" = blacksmith). Some are physical descriptions (e.g. "Delgado" = thin) and some are descriptions of where a person was from (e.g. "De La Vega" = from the meadow). Also, many Hispanic last names end in "-es" or "-ez" which is a way of signifying a parent (e.g. "Fernandez" = son of Fernando, "Ramirez" = son of Ramiro).
Some common Hispanic last names:
Aguilar
Álvarez
Castillo
Castro
Chávez
Cruz
Delgado
Díaz
Espinoza
Fernández
Flores
García
Garza

Gómez
Gonzales
Gutiérrez
Guzmán
Hernández
Herrera
Jiménez
López
Martínez
Medina
Méndez
Mendoza
Morales
Moreno
Muñoz
Núñez
Ortega
Ortiz
Peña
Pérez
Ramírez
Ramos
Reyes
Ríos
Rivera
Rodríguez
Romero
Ruiz
Salazar
Sánchez
Santiago
Soto
Torres
Valdez
Vargas
Vásquez
Vega
Spanish Married Last Names
When two people get married, there is a decision to be made about last names. In some countries a woman's name will not change at all, but in other places a woman will drop her second surname and replace it with her husband's first surname. Let's say that Juan and Carla from the above example meet, fall in love, and get married:
husband:

wife:

original name:

Juan García Reyes

Carla Rodriguez Calderón

married name:

Juan García Reyes

Carla Rodriguez Calderón or
Carla Rodriguez García or
Carla Rodriguez de García or
Carla Rodriguez Calderón de García
Juan's name will not change, but Carla's might change to "Carla Rodriguez García." She may also include a "de" to indicate that her name is due to a marriage; "Carla Rodriguez de García." Or she could even keep entire name and add "de García" to the end; "Carla Rodriguez Calderón de García."
This idea is also appearing in the English-speaking world where a woman will hyphenate her maiden name with her new husband's last name.
Children's Last Names
Note: In 1999 Spanish law was changed to allow for a maternal last name to be listed before the paternal last name.
Now let's say that Juan and Carla have a son, Felipe. Felipe's complete last name will be a combination of his parents' lastnames, first Juan's (first) last name then Carla's (first) last name. The same thing will happen If they have a daughter, Gabriela:
| | |
| --- | --- |
| father's name: | Juan García Reyes |
| mother's name: | Carla Rodriguez García |
| son's name: | Felipe García Rodriguez |
| daughter's name: | Gabriela García Rodriguez |
Some Hispanics living in North America have begun hyphenating their last names to avoid confusion on forms and paperwork in a traditional English system. So that he doesn't inadvertently become "Felipe G. Rodriguez" on his first driver's license, Felipe may fill-out the paperwork as "Felipe García-Rodriguez."
Spanish First Names
Spanish speakers also tend to have more "first names" than English speakers. This can be for a variety of reasons. Traditionally, many Hispanic children were named after saints, especially the patron saint of their birthday. More names were then added in honor of other saints (thereby increasing divine protection) or to honor other relatives. Many traditional names (like "Ana") are so popular that a second (or third) name is included to avoid any confusion (e.g. "Ana María" vs. "Ana Lucía").
There is a huge variety of Spanish first names just as there is in English. Many names (especially Biblical ones) have English equivalents (José = Joseph, María = Mary, Juan = John, Miguel = Michael, Mateo = Matthew, etc.). Many names (especially indigenous ones) cannot be translated (e.g. Xochil, Ximena). Names that would be considered normal or popular in one country may not be used at all in another. And sometimes Hispanic people have names that just seem out of place, like "Jessica," "Giovanni," "Vladimir" or even "Lenin."
Now would be a good time to note that even if a Spanish name has an English equivalent, you shouldn't translate it: "José Reyes" does not become "Joseph Kings."
Note: Due to their religious significance, it's not unusual for a female to have "José" as a second name or for a male's name to include "María," e.g. José María Aznar.
Here is a list of some popular Hispanic first names::
boy's names:

Aarón
Abraham
Adán
Alberto
Alejandro
Alfredo
Alfonso
Alonso
Álvaro
Andrés
Ángelo
Antonio
Armando
Arturo
Augusto
Bartolomé
Benjamín
Bernardo
Carlos
Cesar
Claudio
Cruz
Daniel
David
Diego
Eduardo
Efraín
Elías
Emilio
Enrique
Ernesto
Esteban
Eugenio
Fabio
Federico
Felipe
Félix
Fernando
Francisco
Gerardo
Gilberto
Gregorio
Guillermo
Heraldo
Hernaldo
Horacio
Hugo
Humberto

Ignacio
Jaime
Javier
Joaquín
Jorge
José
Joel
Juan
Julio
Leonardo
Lorenzo
Luís
Manuel
Marcelo
Marcos
Mario
Martín
Mauricio
Mateo
Miguel
Moisés
Noé
Noel
Octavio
Óscar
Pablo
Paco
Pancho
Pedro
Pepe
Rafael
Ramiro
Ramón
Raimundo
Raúl
Ricardo
Roberto
Rodrigo
Rodolfo
Rogelio
Rubén
Sancho
Santiago
Samuel
Sergio
Tomás
Vicente
Víctor
girl's names:

Abigail
Adriana
Alegría
Alejandra
Alicia
Alma
Ana
Andrea
Ángela
Angélica
Araceli
Beatriz
Bianca
Blanca
Brenda
Camila
Carina
Carla
Carmen
Catarina
Celina
Cintia
Consuelo
Concepción
Cristina
Cristiana
Daniela
Diana
Dulce
Elena
Elizabeth
Esperanza
Estrella
Eva
Fe
Flor
Frida
Gabriela
Gloria
Gracia
Inés
Isabel
Javiera
Juana
Juanita
Julia
Juliana
Katia

Lana
Laura
Lea
Linda
Lola
Lorena
Luisa
Luz
Marcela
Margarita
María
Marínela
Marisol
Marta
Maya
Mercedes
Miranda
Nadia
Natalia
Nina
Olivia
Paloma
Pamela
Patricia
Pilar
Raquel
Rebeca
Reyna
Roberta
Rosa
Rut
Sabrina
Sara
Selena
Serena
Shakira
Socorro
Soledad
Sofía
Tatiana
Teresa
Tina
Violeta
Yara
Yasmín
Yesica
Yolanda
Zoe
More on Hispanic Names
Spanish Middle Names
Spanish does not use a "middle name" per se, but rather the second first name ("segundo nombre") is considered the middle name when filling out paperwork.
Spanish Titles
Note: In the past the term Señorito (Srto.) was used for a young, unmarried man. Now it's a pejorative term referring to a spoiled, rich kid.
Spanish titles are very similar to English with one exception. Don is used as sign of respect for an important or wealthy man. This loosely translates to "Sir" in English. The female equivalent is doña.
| English: | Spanish: | abbrev.: |
| --- | --- | --- |
| Mr. | señor | Sr. |
| Mrs. | señora | Sra. |
| Ms. | señorita | Srta. |
| Sir | don | D. |
| Lady | doña | Dña. |
| Dr. | doctor(-a) | Dr. / Dra. |
Notice that Spanish titles are not capitalized but their abbreviations are.
Spanish Nicknames
Just as in English, many Spanish speakers receive nicknames (whether they want them or not). Some people are given nicknames (or "apodos") based on ancestry (e.g. Chino = "Chinese guy," Ruso = "the Russian"), or personal characteristics (e.g. Gusano = "the worm," Maquina = "the machine," Clavo = "nail"). In Sandra Cisneros' book, Caramelo, a character is nicknamed "Reloj" because one arm is longer than the other.
Note: "Tito" is a popular nickname for names ending in "-erto" (e.g. Alberto, Humberto, Norberto, Roberto, etc.).
Some nicknames are just variations or abbreviations of given names. Some common nicknames:
| name: | nickname: |
| --- | --- |
| Adolfo | Fito |
| Alicia | Licha |
| Antonio | Toño |
| Concepción | Concha |
| Dolores | Lola |
| Eduardo | Lalo |
| Francisca | Paca |
| Francisco | Paco |
| Ignacio | Nacho |
| Jesús | Chuy |
| José | Pepe, Chepe |
| Josefa | Pepa |
| Rosario | Charo |
Spanish Name Suffixes
If English speaking parents want to name their son after his father it's necessary to include a suffix (like "junior," "the second," or "II"). This isn't actually necessary for Spanish speaking parents. Since the mother's maiden name becomes part of the child's last name, it's not possible for a father and son to share the exact same full name.
However, to avoid confusion Hispanics may use the diminutive to refer to the child (e.g. "Juancito García") or they may even borrow from English and call the child "junior" (pronounced "yunior"). Hispanics may also add "segundo" to the name (e.g. "Juan García, segundo") or refer to father and son as "padre" and "hijo" (e.g. "Juan García, padre" and "Juan García, hijo").